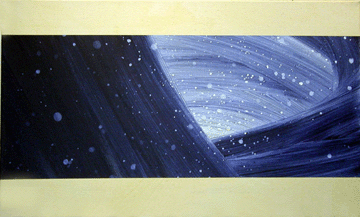 Title: "No. 111"
Medium: Acrylic on Canvas
Dimensions (H x W, in inches): 18 x 30
Date: 10.30.00

The Artist's Comments: The more light you put on this, the more details you will find. This piece moves! The colors are deep.
Let's not forget: The internet is a lousy way to look at art.
The actual Grundy is gorgeous.


CLICK HERE for the
ARTIST STATEMENT
of this series
[ARTWORK] ... [HOME PAGE] ... [ARTIST'S BIO] ... [FRAMING SERVICES]