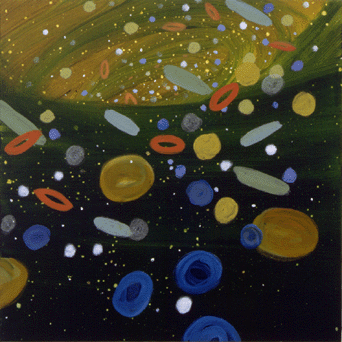 Title: "No. 112
Medium: Acrylic on Canvas
Dimensions (in inches): 32 x 32
Date: Summer 2001

The Artist's Comments: This is the only piece (as of 2-1-01) that does not have
horizontal borders. It is easy to fall into this piece.
There is an energy that zips you between the upper half to the lower. It is dizzy-making.
A playfulness and nice brush strokin' in the lower half.
Let's not forget: The internet is a lousy way to look at art.
It demeans the beauty and color of a Grundy.
[ARTWORK] ... [HOME PAGE]
CLICK HERE for
ARTIST STATEMENT
of this series